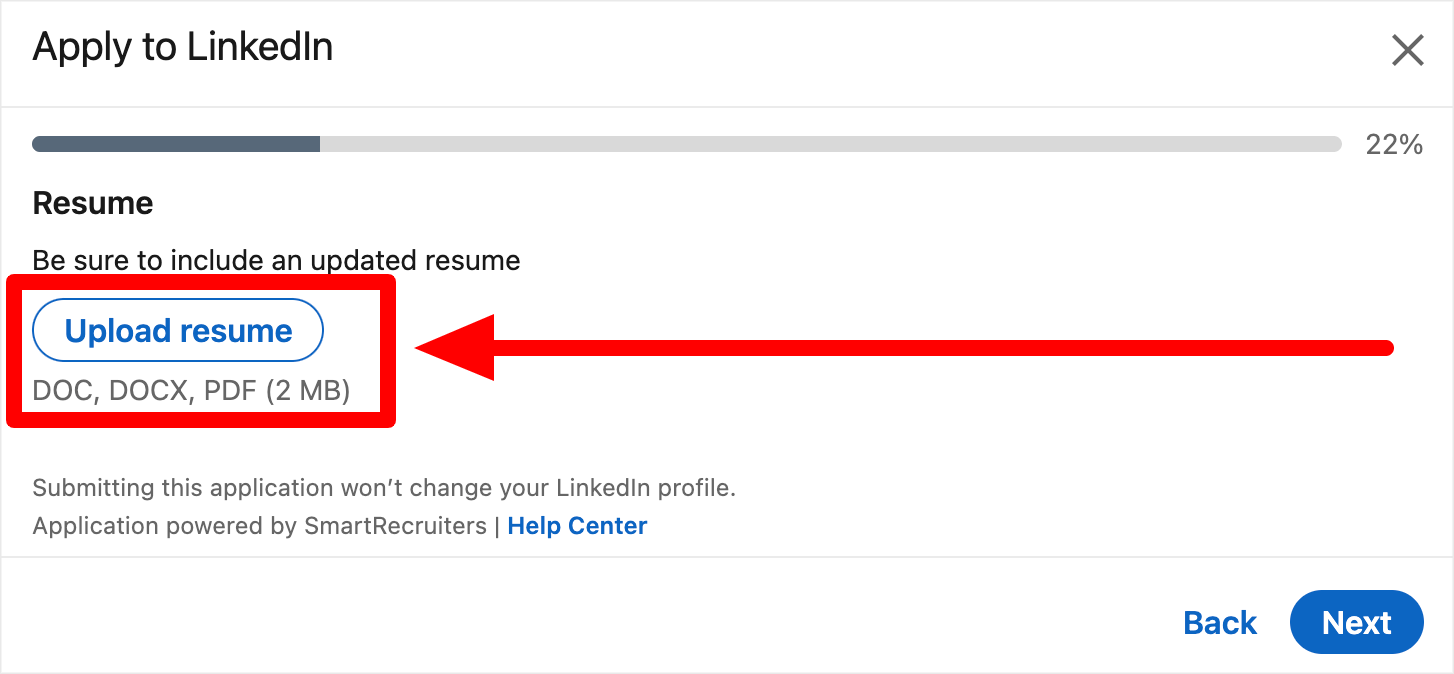 How to upload your resume in LinkedIn (3 methods)
LinkedIn is one of the world's most popular tools for finding and applying to jobs. By building an impressive LinkedIn profile and adding your resume to the platform, you can attract the attention of recruiters or even increase your professional connections in a few simple steps.
With over 756 million members in 200 countries, it's no surprise that LinkedIn is one of the world's most popular tools for finding and applying to jobs. By building an impressive LinkedIn profile and adding your resume to the platform, you can attract the attention of recruiters or even increase your professional connections in a few simple steps. However, there are some important questions to ask yourself before uploading your resume to LinkedIn . In this blog, we'll discuss the different ways to add your resume to LinkedIn and how to decide which option is right for you.
At its core, LinkedIn is a site that allows you to attract recruiter's attention by showcasing the same information they would find on your resume. While you should add relevant information to each of the built in sections like Employment History or Education, posting your full resume file to the site is not always advisable. Read on to find out the pros and cons of each way to post your CV to LinkedIn.
How to add a resume to LinkedIn
When it comes to uploading your resume to LinkedIn, there are a few different ways to add it to the site. In this chapter, we'll discuss your options as well as the benefits and drawbacks of each.
Using the "Featured Media" feature to upload your resume in LinkedIn
If you want recruiters to find your entire document just as it exists on paper, then adding your resume in LinkedIn as featured media is the easiest way to go. This function allows you to simply attach your resume file to the Featured Media section so it will be one of the first things a recruiter sees on your LinkedIn profile.

Navigate to your LinkedIm profile page.

How to upload your resume in LinkedIn

How to upload your resume in LinkedIn
Pros: If you want a recruiter to find your full and complete resume just as it would be if you emailed it to them, this is the best way to make sure they see it on your LinkedIn
Cons: Since an up-to-date LinkedIn profile contains most of the elements on your resume, uploading your resume as Featured Media may give the impression that you're not quite comfortable using the platform to its fullest.
An alternative to using the "Featured Media" option is simply to make a post that includes your resume. While it won't be nearly as visible on your profile, it will catch the eye of any of your connections scrolling through their feed. If there are any potential employers, future colleagues or recruiters – this will show them your resume. Just make sure to write some appropriate/engaging text as well.
To post your resume, begin by navigating to the home page (look for the house icon on the upper banner.) Write a post just as you would on any other social media platform. Use the "Add a document" icon to include your resume before you send your post into the world!
2. Add your resume information to each LinkedIn section
If your goal is just to share the information that's on your resume and you don't care about the recruiter seeing the actual file, then transferring your experience to each LinkedIn section instead of adding the actual resume to LinkedIn is the best way to go.


Add skills to your LinkedIn Profil
Pros: This is the way LinkedIn is intended to be used so this method serves to give a complete picture of your career path and also demonstrates that you're comfortable with the platform.
While there's no way to guarantee your employer won't find your resume on LinkedIn or see changes you've made to your profile, there are a few ways to minimize the changes of your boss noticing that you're on the job hunt.
If you want to take things a step further, you can remove your employer from your connections. While they won't be notified that you've done this, they will find out if they navigate to your profile on their own and see that you are no longer connected.
Just remember that you have made these changes and be mindful that they will affect your visibility. Don't just make them and forget you have done so. Some day it may make sense to change them back.
3. Using LinkedIn's "Easy Apply" Feature
With thousands of openings in a custom-tailored feed, it's no wonder that LinkedIn is one of the most popular ways to search and apply to jobs. LinkedIn makes it simple to add your resume through the "Easy Apply" feature.
This option is only available for employers who opt in, so if there's no blue "Easy Apply" button at the top of the posting then you'll have to go to the company website to apply directly.

Navigate to your desired job posting

Your Resume. To Upload or not to Upload, that is the question.
Crafting a powerful, engaging LinkedIn profile is an art form. People will either pay attention to you or they will move on. Before we get into how to spruce up your LinkedIn profile page, here are some primary reasons you should not upload your resume :
Private Information Risks – Your resume usually includes your contact information, i.e. your direct email address, phone number, and sometimes even your home address. This is information you usually do not list publicly on social media. However, if you upload your resume that information will become public and available to anyone online.
No Control – After you upload the resume, you no longer have control over what happens to that information (even if you do remove your contact information). That means that anyone is free to view, copy, download, use, pirate, and distribute your resume as they wish – all without your knowledge or consent.
Current Employer Issues – Many of our Resume Upgrade clients are concerned about making their job search public and tipping off their current company that they are looking elsewhere. Uploading your resume to LinkedIn as a clickable document can make your job search into a public conversation – probably one you do not want to have in the company break room or at your next weekly department standup. LinkedIn's "Open Candidate" function is a discreet way to signal to recruiters that you are looking.
Looking Desperate – Similar to the above, uploading your resume to LinkedIn announces to the world that you are looking for a job. Recruiters, employers, and head hunters are always looking for top talent. However, seeing your resume on your profile page does not make you appear to them as someone who is "in demand." Instead, you look like someone who is in need of something and in desperation – trying anything you can. Job hunting is like dating: you do not want to seem too easy to get.
Should I Ever Upload My Resume to Linkedin?
Earlier we mentioned that we would provide you with some tips to give your LinkedIn profile a makeover you'd be proud of. Before you read further, please remember our very profound and scientific garden analogy. The following tips will definitely empower you to build a strong LinkedIn profile presence and it is critical that you continue to tend to that presence after those initial changes are made.
As with any social media platform, there are thousands of algorithms that determine what is seen and not seen. The less active you are, the less your profile will be viewed. This is just the way this works, so as annoying as this might be you get to choose: do you want to avoid being inconvenienced or do you want to land your dream job?
Source:
https://resume.io/blog/how-to-upload-your-resume-in-linkedin
https://thejobsauce.com/how-to-add-resume-to-linkedin/
https://cultivatedculture.com/upload-resume-to-linkedin/