Working with influencers means your brand's name is getting in front of thousands of people who may have never heard of it before. They're learning about your brand from someone they trust, which means they're going to be more ready to learn about your company or follow you on social media.
How You Can Build a Powerful Influencer Marketing Strategy in 2022
It's almost impossible to scroll through social media without seeing some form of influencer marketing. Everywhere you look, influencers are showing off their latest snacks, clothes, makeup brands or candles, and that's just the beginning.
When it comes to defining influencers, it's important to note that anyone can be an influencer. Like John Maxwell says, "To be an influencer, you have to love people before you can try to lead them." If you have one follower, you have influence. If you get one like on your posts, you're generating engagement.
So let's take a moment to acknowledge the aspiring influencers who are growing their following. These people post about their favorite brands and products simply because they love them. Granted, they're probably also hoping for a brand deal in the long run, but at the time that they post, they aren't making any money for their efforts.
It might feel like influencer marketing is a new thing that just became popular recently. Actually, influencer marketing began 15 years ago. PayPerPost, the first marketplace to pay bloggers for branded content, launched to quite a bit of speculation. Since blogs were mainly seen as online diaries, many experts were skeptical that adding advertising or sponsorships into the content would actually feel authentic.
That's a challenge that today's influencers are still facing, but for those who can manage to promote products or services and sound real and authentic while doing so, there are many rewards to be reaped. After all, people want to buy from other people, so when they find someone they like, they're more likely to trust their recommendations.
What Is Influencer Marketing?
Influencer marketing is a way brands can promote their products through endorsements or recommendations from influencers and content creators on the internet. Social media and blogs are home to the majority of influencers, although other creators like podcast hosts can fit the bill, too. Many times, influencer marketing is a part of brand awareness campaigns, but it can also result in plenty of conversions and sales.
While influencer marketing began back in 2006, it has changed a lot over the past 15 years. Facebook and Twitter were just getting started, but Instagram wouldn't join the social media landscape until 2010. When influencers began, they were primarily bloggers who shared stories about their lives and promoted products they used each day.
It's kind of a paradox, but while influencer marketing hasn't changed that much, it's vastly different in several ways. Influencers are still sharing stories about their lives and promoting products they use each day. Now, though, there are many people who are career influencers, earning a living through brand sponsorships. When it began, any money a blogger made through a partnership was nice side cash, but certainly not enough to be considered full-time income.
Influencers today also have so many more options than the original influencers did. There are countless social media platforms to choose from, and there are so many kinds of content they can create. For those who like video platforms, YouTube or TikTok are excellent options. Those who want to share long-form written posts can benefit from traditional blogging or even Facebook. Influencers who want a little of everything can turn to Instagram. While Clubhouse is still a new platform, it probably won't be long until influencers find a way to turn that into a spot for their promotions, too.
What is influencer marketing?
At a fundamental level, influencer marketing is a type of social media marketing that uses endorsements and product mentions from influencers–individuals who have a dedicated social following and are viewed as experts within their niche. Influencer marketing works because of the high amount of trust that social influencers have built up with their following, and recommendations from them serve as a form of social proof to your brand's potential customers.
Standing out in 2014 on Instagram was easier than today. If you were lucky enough to be featured on Instagram's featured page or your look was just distinctive enough, then your chances of being tapped as an influencer were high. After enough brand partnerships, some have turned social media influencer marketing into a full-time career.
Rosie Clayton's Instagram feed is filled with colorful dresses and outfits against colorful walls. During a time when VSCO's muted tone filters were becoming popular, Rosie's highly saturated photos jumped out. She works with brands around the world, fitting them into her aesthetic.
We're influenced by what we see and aesthetics are no different. Bright images are more common now as well as carefully propped up food against interesting backgrounds. When the 'typical look' of influencer marketing no longer becomes unique, what comes next?
Taylor Lorenz's article in The Atlantic forecasts a more 'authentic' trend driven by the network's youngest users that strives to return to what Instagram used to look like when your feed was just friends. Lorenz wrote, "While Millennial influencers hauled DSLR cameras to the beach and mastered photo editing to get the perfect shot, the generation younger than they are largely post directly from their mobile phones."
To be a fashion influencer among this younger demographic, you may no longer need to rely solely on perfectly shot photos. Instead, casual poses and limited editing are now becoming more welcome on the feed.
Keep in mind that the article covered only a subset of influencers: young, Instagram users. If anything, this shift over the last five years should show how influencer marketing's only constant is change.
Manage influencer campaigns with Sprout Social

From reporting on campaigns and partnerships to managing incoming messages, Sprout can help you manage social influencer campaigns from start to finish.

Use Sprout's features to identify influencers in your niche, manage outreach, and track the impact of your efforts.

Find out how Sprout Social can help your brand's influencer marketing efforts with a free 30-day trial.
How to create an influencer marketing strategy
Like any marketing tactic, an influencer program takes deliberate targeting and planning. You won't find strategic success just by sending free things out to everyone who asks or to your existing friends and acquaintances
1. How to find influencers and what to pay them
Much like any strategy, research is the first step. Choose the platform you want to focus on first. You can always expand to other platforms later but if you're just starting out, stick with one. Ideally, your brand should already have a presence on this network or be looking to expand into it.
If you're unsure of where to begin, social listening can help you identify where people are talking about your industry and brand—and it can help you find the most influential voices in your industry on each platform. Check out our guide to social listening to learn more.
40 Unique Ways To Use Social Listening To Make An Impact On Your Business
The industry you're in also matters when you're planning to implement an influencer marketing strategy. Beauty and fashion brands shine on Instagram and YouTube. The video game industry dominates on Twitch.
During your research phase, look into the type of influencers you're interested in. Are you going for celebrities with massive followings? Or microinfluencers with less than 2000 followers? Perhaps something in between in the 5–10k follower range is more your preference. Whatever you decide to focus on will determine your budget.
Compensation varies wildly, too, so be sure to look at common rates for those influencer types. Microinfluencers tend to be focused on a few topics and accept products. Some microinfluencers work independently while others may be represented by an agency or network. Whereas, larger accounts and celebrities will need compensation and might even go through a talent agency.
You'll need to think about the expected ROI of your social influencer marketing campaign: how will you gauge the contributions of influencer posts to your overall marketing goals? One approach might be to compare your expectations for influencers to other firms – look at how you might gauge the budget for a video production firm's work in creating an ad for you versus an influencer creating a video. It may initially seem like judging the value of influencers is unpredictable, but this type of approach will give you a familiar point of comparison and contrast.
2. Set a budget and management strategy
Now that you have some idea of what to pay influencers, you need to create your budget. Be sure to also factor in time for planning, executing and reviewing your influencer program. Running a successful influencer marketing campaign is not a set-it-and-go type of strategy. It'll involve careful monitoring and follow up.
Unlike a more automated ad strategy, influencers are human and frequently balancing multiple partnerships, so some may fall behind in their commitments to post on time or make errors in your requested tags or calls to action. You'll need to have the time to be more hands-on with these relationships to cultivate them, and refine your approach through experience about what works and what doesn't in your niche.
How to Do Influencer Marketing for Your Business
1. Choosing the Right Social Media Platforms
Instagram is best for sharing photo or video content that's bite-sized and meant to catch the eye. If you're selling a product (as opposed to a service), Instagram is almost definitely one platform you'll want to be on. Most Instagram users are ages 18-34.
YouTube is obviously best for video content, but whereas Instagram only allows up to a minute of video, YouTube allows for videos of any length, giving you more options. YouTube's demographics are surprisingly varied – while it's most popular with 18-24 year olds, YouTube has a 51 percent penetration rate among people 75 and older.
Facebook allows for a mix of text, photo, and video content. It's also loved by marketers for its popular Facebook Live option that allows you to livestream anytime and anywhere. Facebook's demographic skews a little older, between 25 and 34.
TikTok is the rising star among social media platforms. The app gives influencers the opportunity to express themselves in a very creative way. It's especially useful for brands looking to reach a younger audience . 62 percent of TikTok users are aged between 10 and 29.
2. Creating Brand Guidelines
Alienware's brand guidelines offer an excellent example. The brand has built its reputation on the high-end gaming computers it offers, and its guidelines are written to maintain that brand. The emphasis on performance-driven, innovative technology is clear.
The guidelines also go into extensive detail on the brand's design philosophy. While most brands don't need to spend 12 pages on design guidelines, this shows Alienware's commitment to consistent branding, and that's definitely something to consider when making your own guidelines.
3. How to Find Influencers
After you've settled on platforms and created brand guidelines, you can finally set out to find influencers. You may be wondering how to find influencers on Facebook, how to find influencers on Instagram, or just how to get influencers period!
4. Reaching Out to Influencers
Best Tools to Track Your Influencer MarketingTracking Your Campaign
1. Sprout Social
2. Hootsuite
Thisis another popular platform that lets you grab useful analytics and track what people are saying about your campaigns. You can also use other functions — such as social media scheduling — to improve your brand's reach.
If you want to use a tool that's built specifically for influencer marketing, Traackr is worth a look. This tool automates influencer discovery, vetting, and reporting, allowing you to focus more on building influencer relationships and creating great content.
3. Traackr
If you want to use a tool that's built specifically for influencer marketing, Traackr is worth a look. This tool automates influencer discovery, vetting, and reporting, allowing you to focus more on building influencer relationships and creating great content.
The Future of Influencer Marketing
While social media influencer marketing is extremely popular, it's still a very new method of marketing. It's grown over the last several years and is still growing. Brands are developing new ways of working with influencers, and influencer marketing as a whole is still being analyzed and refined.
According to Think With Google, six in ten YouTube users would take advice on what to purchase from their favorite creators, and four in ten millennial YouTube users say that their favorite creator understands them more than their friends do.
Out of all the major social media platforms, Instagram has one of the youngest audiences. More than half of Instagram users are under 34 years old, with 31 percent falling in the 18-24 age range. Why does this matter? Because as Forbes revealed, millennials are the age group that is most likely to trust recommendations from people they know or opinions posted online.
It's easy to see why most brands are spending more on Instagram than on any other social media channel. Along with YouTube, Instagram is playing a pivotal role in the success of influencer marketing, and the two platforms will continue to see more influencer marketing in the future.
TikTok is one such platform that's seeing lots of influencer marketing success. It's relatively new to the scene, but it's estimated to have more than 500 million users, which makes it bigger than Twitter and Pinterest.
While the specifics of the future of influencer marketing are unknown, one thing's for sure: Influencer marketing will only continue to grow. It's a brand-new form of marketing that shows no signs of stopping, and it's well worth your consideration.
Sources:
https://www.bigcommerce.com/blog/influencer-marketing/
https://sproutsocial.com/insights/influencer-marketing/
https://www.oberlo.com/blog/influencer-marketing
Influencer marketing
There is a surprising variation in the number of followers that Instagram influencers have. A few niches, such as modeling and beauty, have some extremely popular influencers with up to 20 million followers each. Other niches, such as lifestyle and music, have fewer "superstars," leading to lower average influencer followings.

Entertain Them – and They Will Come
Subaru's #MeetAnOwner campaign used influencer videos to showcase the new Impreza in various locations, hoping it would attract the attention of millennial buyers. Devin Graham (@devinsupertramp), a YouTube influencer with nearly 5 million subscribers, published a video of him and his friends taking turns on a slip and slide that propelled them (and their parachutes) off a 500-foot cliff.
Key takeaway: Influencer content is about emotion, not facts and figures. Despite the importance of selling points like safety features, horsepower and fuel economy, the automobile industry has long embraced the emotional aspect of car buying in TV commercials. Graham's video shows influencer marketing is a natural evolution of that same premise — at a time when many millennials admit to scrolling social media while ads play on TV.
Swisspers, a U.S. Cotton brand, encouraged beauty bloggers and their followers to post "naked" (makeup-free) selfies as part of a cheeky "Sleep Naked" sweepstakes. When the campaign launched, celebrities like Jennifer Lawrence, Drew Barrymore, and Taylor Swift had already posted their own selfies sans makeup. Though the celebrity posts were not affiliated with the campaign, Swisspers' target audience was already familiar with the underlying concept.
Key takeaway: There's no need to reinvent the wheel! When it makes sense for your product or service, feel free to experiment with influencer content that piggybacks on existing social media trends. Because the influencer is publishing his or her own individual take on a personal channel, the posts should feel timely and authentic as opposed to cheesy or self-serving.
A ski resort in British Columbia, Sun Peaks wanted to increase awareness about several of their top winter attractions, including crowd-free ski runs, seasonal festivals, and the region's jaw-dropping natural beauty. Travel Mindset designed a campaign targeting adventure-seekers in the Pacific Northwest that involved Canada's top adventure photographer and Instagram influencer, Callum Snape (@CalSnape).
Key takeaway: Stunning images, daily Instagram stories, and short Facebook videos drove 200,000+ article views of three minutes or more, creating massive interest in Sun Peaks' target market. Much of the campaign's content positioned the resort as an "insider secret" for escaping the crowds associated with competitive destinations like Whistler. Influencer marketing can be a great way for smaller brands to use their size as a competitive advantage.
Marriott was one of the first tourism brands to embrace influencer marketing. In one particularly successful campaign, the hotel chain worked with YouTube influencer Jeana Smith (@PrankVsPrank) to celebrate reaching one million check-ins on the Marriott app. The video features a surprise dance party for the mobile user that completed the milestone check-in. The video went viral and currently has nearly four million views.
Key takeaway: Have fun with it! When you're investing in sponsored posts, it can be tempting to try to control every aspect of the finished product and replicate what you've done before. But that approach can result in content that lacks the influencer's signature personality. While you should provide influencers with key messaging, remember they became influential by publishing the sort of content that resonates with their followers. Embrace their creativity.
Lagavulin is well-known among whisky aficionados but not as top-of-mind for casual drinkers. That changed almost overnight with a video featuring actor and comedian Nick Offerman. In the video, Offerman, who played "man's man" Ron Swanson on Parks and Rec, sits in silence for forty-five minutes as he sips a glass of Lagavulin next to a cackling fire.
Key takeaway: Though Offerman has a cult following, he's not a Hollywood A-lister and this isn't your typical celebrity endorsement. It's effective because Offerman's (and Swanson's) persona is a perfect fit for the brand, and the length is so absurd viewers feel as if they're on the inside of a private joke. Choose the right influencer and then focus on creating something your audience can't help but notice.
Build Relationships, Not Posts
For $35, Bodyworewhat users can access at-home workout videos featuring Danielle Bernstein (@weworewhat) and trainer Eric Johnson. When Bernstein posted about getting in shape with Bodyworewhat, an extension of her own brand, her photos also included FIJI water bottles. In dedicated posts, she promoted FIJI by reminding followers about the importance of staying hydrated with a discount code for home delivery.
Key takeaway: Savvy macro-influencers will continue seeking out new ways to monetize their following, so savvy brands should look for unique opportunities to work toward a common goal. Because Bernstein was also promoting her own product, her posts about FIJI water felt less like forced product placements and more like a reflection of what she was working on at the time.
Microsoft's ongoing "Make What's Next" campaign encourages young girls to pursue careers in STEM (science, technology, engineering, and mathematics). On International Women's Day, Microsoft teamed up with National Geographic to feature 30 images by well-known wildlife photographers on National Geographic's five Instagram accounts. The photos depicted female scientists and outdoor adventurers and generated more than 3.5 million likes in one day.
Key takeaway: Microsoft used influencer marketing to increase awareness about a prominent issue, casting both Microsoft and National Geographic in a positive light and driving a positive sentiment for both brands. Consider campaign objectives that go beyond conversions as well as working with other influential organizations that stand to gain as much you do.
Moxy Hotels launched its own YouTube channel (@MoxyHotels) with the help of YouTube star Taryn Southern (@TarynSouthern). Together they created Do Not Disturb, a video series featuring Southern interviewing other influencers inside a shipping container designed to look like a Moxy hotel room. The series was so well-received Moxy invested in a second "season" the following year.
Key takeaway: While Southern fits the target demographic of the Moxy Hotel brand, the length and scale of this sponsorship is relatively unusual. Millennials have shown us time and again they don't mind sponsored content as long as it's good. If you've got a perfect influencer in mind and you agree on a format that won't go stale, a long-term relationship could be the way to go.
Chrissy Teigen (@chrissyteigen), a professional model married to John Legend, has cultivated a huge social following by showing off her irreverent personality on Instagram and Twitter. BECCA Cosmetics collaborated with the social media star to create a brand new makeup palette, which Teigen announced in an Instagram video that generated just under 5 million views.
Key takeaway: Influencers do a great job of promoting existing products, but think about asking them to help you create something new. After all, they're often a member of your target audience themselves — and they may be feel more invested in a product they helped create. For tourism brands, this could mean a weekend package that includes a hotel stay, tickets to a local attraction, and a gift card to the influencer's favorite restaurant.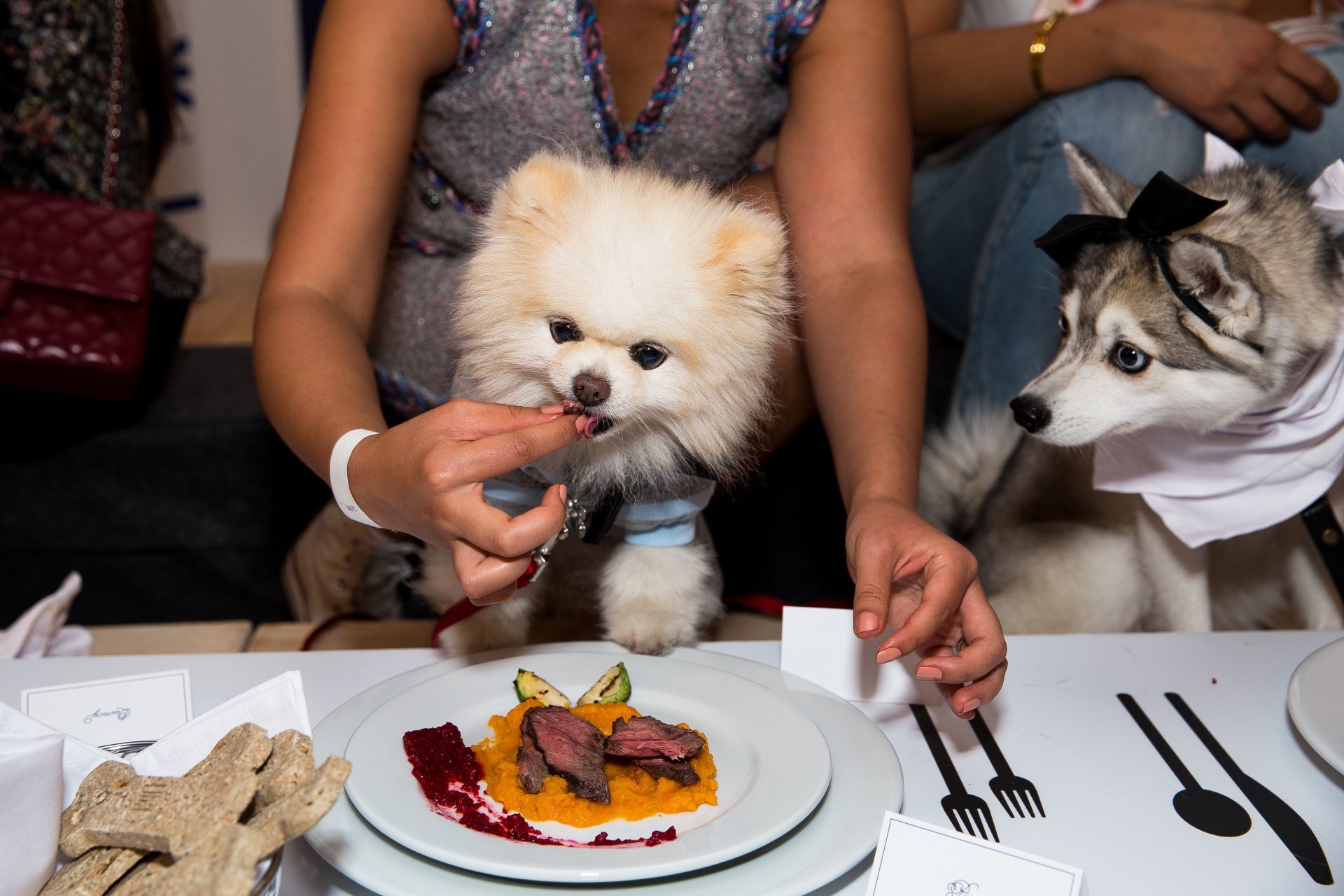 Ecommerce mattress company Casper worked with several canine influencers to promote a new product for their customers' four-legged friends. Twenty influencers — with a combined following of more than 3.5 million dog lovers — were invited to attend a launch party in Manhattan, complete with a green carpet, "pupperazi," a steak dinner, and hot dog infused water. The Dodo, an online outlet "for animal people," live-streamed the party on Facebook.
Key takeaway: Private events are an affordable way to engage several influencers at one time, while showing appreciation for each individual and avoiding a pseudo-"press trip," which can stifle creativity and result in endorsements that lack personality. Travel Mindset planned a similar "Insta-Meet" for Visit St. George that enabled the DMO to capture 500+ email addresses for email marketing.
What is Influencer Marketing?
Influencer marketing involves a brand collaborating with an online influencer to market one of its products or services. Some influencer marketing collaborations are less tangible than that – brands simply work with influencers to improve brand recognition.
An early example of influencer marketing involved YouTube celebrity PewDiePie. He teamed up with the makers of a horror film set in the French catacombs under Paris, creating a series of videos in which he underwent challenges in the catacombs. It was pitch-perfect content for PewDiePie's 27 million subscribers and received nearly double the views as the movie's trailer. Everybody won.
But people wouldn't be talking about influencer marketing—you wouldn't be at a website called the Influencer Marketing Hub reading about it, either—if it didn't have a much broader set of applications. And the key is in that word, influencer .
Influencers, unlike celebrities, can be anywhere. They can be anyone. What makes them influential is their large followings on the web and social media. An influencer can be a popular fashion photographer on Instagram, or a well-read cybersecurity blogger who tweets, or a respected marketing executive on LinkedIn. Within any industry, there are influential people—you just have to find them. Some will have hundreds of thousands (if not millions) of followers. But many will seem more like ordinary people. They may only have 10,000 followers, less in some cases. Yet, they will have developed a reputation for being the experts in their field. They are the go-to people who provide the answers to people's questions. Depending on their sphere of expertise, they are the people who make the most engaging social posts on their specialist topics. They share the best pictures, make the most entertaining videos, and run the most informative online discussions.
Influencer Marketing Statistics
Influencer marketing isn't just about finding someone with an audience and offering them money or exposure so they can say good things about you. That's what viral celebrities are for. Influencers are people who've spent time building their own brand and cultivating their audience; they will be naturally protective of their reputation and the people who trust them. They're people who have the patience and focus to succeed in social media, one organic follower at a time—people like this aren't interested in doing influencer marketing solely for the money.
Influencer Marketing is also not about quick results. It's the same kind of slow-and-steady approach as Social Media and Content Marketing, where your campaign isn't about directly selling your wares. Instead, it's about demonstrating your authority, credibility, and thought leadership within your industry. It's about becoming synonymous with whatever it is that you offer, like when people say they're going to Xerox a document instead of photocopying it, or to Hoover the floor, rather than vacuuming it.
With Social Media Marketing, it's a slow game of acquiring the kind of followers who are going to be loyal and engaged. So it's tempting to think that joining forces with an influencer is going to be an easy way into the hearts and minds of his or her followers—it's not that simple, though. Because to ally yourself with influencers, you've got to earn their trust and respect. But how?
What doesn't work in Influencer Marketing
Simply looking at the popularity of the influencer . Influence does not only mean popularity. Remember that your goal is to elicit a particular action from your customers. Don't automatically assume that the people with the most followers are the influencers of a niche.
One Simple Rule: Influencer Marketing is Marketing to Influencers
With traditional social media marketing, a brand can set up its identity on whatever platform it chooses, and as time passes and its follower bases grow, it can see who its brand champions are. These are the customers who like and share content or mention the brand itself in a post. Followers like these can be further nurtured through personal attention and as part of a highly segmented group of all the brand champions. Efforts to market to this group focus on ways to keep them spreading the word.
One problem with this approach is that some of a brand's followers just don't have enough followers themselves to make much impact. In fact, most ordinary people on social networks don't. Most people have a small network of maybe a few hundred friends and associates representing all kinds of tastes and preferences. Meanwhile, brands struggle to curate and create content that they hope will resonate with their followers in some meaningful way while staying engaged with day-to-day interactions.
This scattershot approach to social marketing yields predictably erratic results. Instead of blindly trying to grab likes and followers or throwing various bits of content out to see what sticks, influencer marketing tells us that our time is better spent marketing directly to influential people whose likes and dislikes we already know — they align well with our own. This means engaging with these people across social accounts—not just following and liking but commenting and demonstrating knowledge and a personality. It can also mean curating or creating content that's hand-picked to get the attention of influencers. So, while it's the influencer's audience that's the ultimate prize, the target market for brands includes the influencers themselves.
This scattershot approach to social marketing yields predictably erratic results. Instead of blindly trying to grab likes and followers or throwing various bits of content out to see what sticks, influencer marketing tells us that our time is better spent marketing directly to influential people whose likes and dislikes we already know — they align well with our own. This means engaging with these people across social accounts—not just following and liking but commenting and demonstrating knowledge and a personality. It can also mean curating or creating content that's hand-picked to get the attention of influencers. So, while it's the influencer's audience that's the ultimate prize, the target market for brands includes the influencers themselves.
The first is that by merely interacting in positive and constructive ways on influencers' social pages, you gain early access to their followers. You're not promoting anything to them; you're showing your face as a member of their community, adding to your credibility down the line.
The second achievement is that, eventually, when you do propose some kind of influencer marketing collaboration, they'll already know you. Influencers aren't celebrities, per se, but their online life can look a lot like a famous person's real-world one: lots of interruptions from people they don't know, wanting a piece of their time, either to praise them or to pitch them. You need to be able to stand out from the noise of attention they get in the form of emails and tweets. This means that when you finally reach out to them, they'll already know what you're about, and they'll know whether you're a good fit for their audience.
Influencer Marketing Examples
Daniel Wellington
Swedish watch brand, Daniel Wellington may be the most famous for influencer marketing. The company advertises mostly through opinion leaders across various platforms and countries. Now, the #danielwellington hashtag accounts for 2.3 million Instagram posts and thousands of YouTube videos.
Daniel Wellington focuses on influencers in lifestyle and fashion niches. In the example below, you can see a promotional post from Instagram influencer, Heather Poppie. The blogger shows an alluring picture of herself wearing Daniel Wellington watches and a ring. In the caption to this post, Heather offers a unique promo code to get 15% off a purchase from the brand.
Together, Nike and "What's Inside?" created a series of sponsored videos. It included a piece of content with Air VaporMax shoes in frame, an unboxing video, and the main video. The latter demonstrated a sliced pair of branded sneakers. This brilliant decision allowed the blogger to showcase the shoes and prove all their benefits while keeping viewers entertained.
Turkish Airlines
Snapchat influencer Jerome Jarre noticed it and launched a campaign with the hashtag #TurkishAirlinesHelpSomalia to raise money for the country. Within several days, the initiative got a lot of buzz and support from celebrities. As a result, the campaign raised one million dollars in just 24 hours.
In the video below, Turkish Airlines confessed they knew nothing before seeing the hashtag trending on Twitter. However, the company sent ten planes with drinking water and food to Somalia, and agreed to aid the country over the next six months. This move increased Turkish Airlines' brand awareness and reputation.
BECCA Cosmetics
BECCA Cosmetics builds its influencer marketing by collaborating with social media stars. Several years ago the brand coupled with Chrissy Teigen and launched a cosmetics collection. The announcement video generated just under 5 million views, and the brand decided to extend this practice.
In 2020, BECCA Cosmetics united forces with Barbie Ferreira, who has 2.3 million followers. Together the brand and the influencer produced a cosmetics collection called Prismatica. Both sides of this collaboration cross-promoted the product on their platform repeatedly and consistently. In the example below, BECCA Cosmetics showcases the product on their account, while Barbie demonstrates the makeup looks made with the palette on her profile.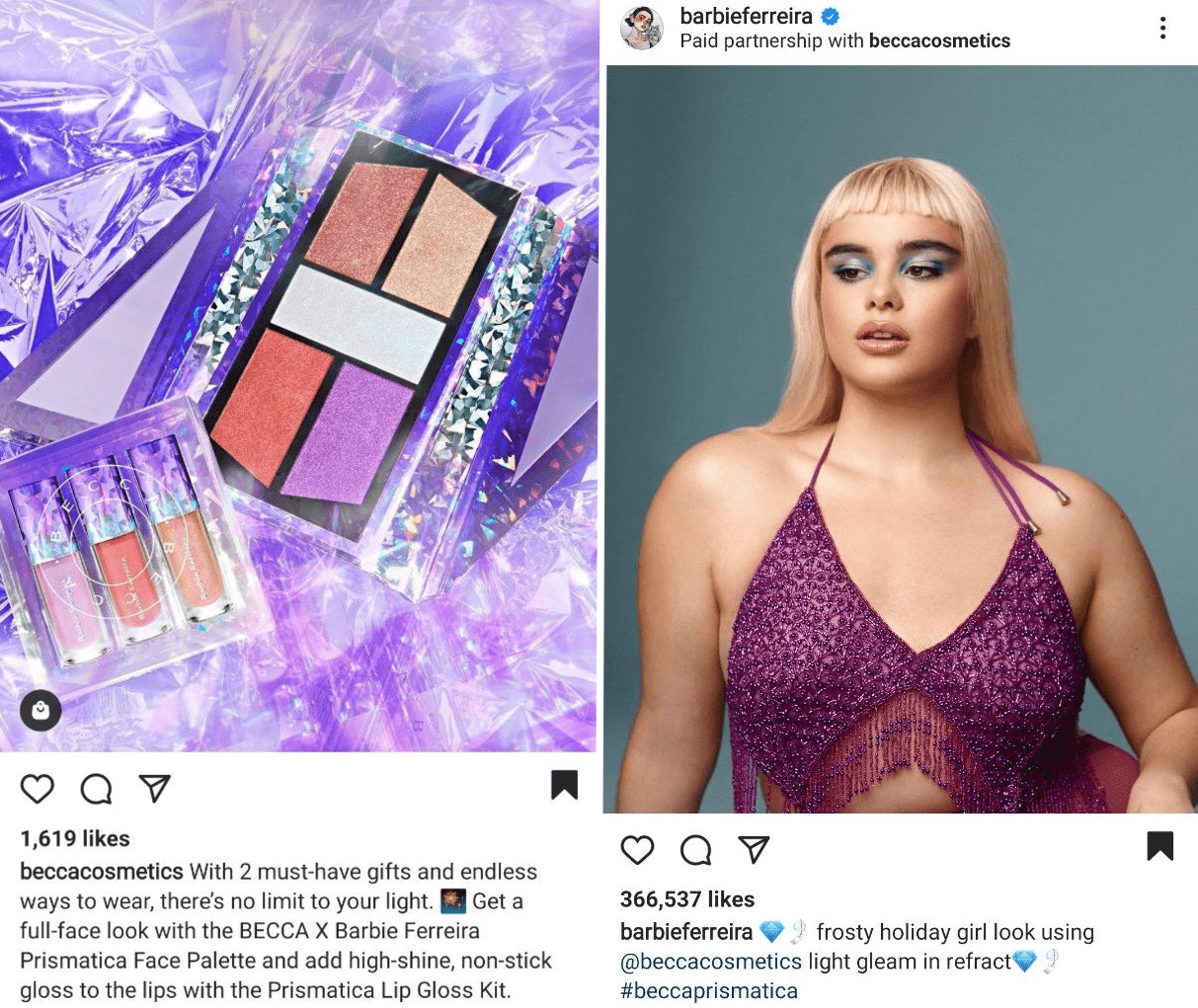 Influencer marketing is an effective way to strengthen your online presence, boost brand awareness, and acquire high-quality leads. To get better outcomes, combine this channel with others – email marketing, SMS, web push notifications, and chatbots. Register with SendPulse and apply them to your marketing strategy.
Sources:
https://www.travelmindset.com/20-influencer-marketing-examples/
https://influencermarketinghub.com/influencer-marketing/
https://sendpulse.com/support/glossary/influencer-marketing
Influencer marketing
As a result, businesses began creating Facebook Profiles to promote their products and services. This development spurred Facebook on to create Facebook Pages for Businesses in 2007. It was a successful move, and now there are around 60 million Facebook Pages for businesses.
Influencer Marketing Guide: How to Work With Influencers in 2022
Influencer marketing, which involves businesses working with content creators (or influencers), is a powerful way to help brands expand their reach on social media. And it's becoming increasingly more popular — data shows that nearly three-quarters (72.5%) of U.S. marketers will use influencer marketing in 2022 (up from 67.9% of marketers in 2021).
There is no one-size-fits-all approach to influencer marketing campaigns — a lot depends on your niche, your goals, and the pool of influencers your audience follows online. But with the right research and strategy, every business can benefit from influencer marketing.
The state of influencer marketing in 2022
Many would argue, that influencer marketing was much easier 10 years ago, and nowadays it's just not that profitable. It is true that social media are much more saturated now, and it's definitely harder to break through to the top for upcoming influencers.
But on the other hand, Instagram and TikTok are now at the peak of popularity (the later maybe even before its peak), because with the advancement of the smartphones everybody can have these app on their home screen.
This means, that influencer marketing is more relevant than ever, because nobody wants to read classic advertisements anymore. Sure, investing in paid advertisement is still profitable and by any means, I'm not advising to ditch Facebook Ads and switch to influencer marketing only. But influencer campaigns can bring you a lot of juicy traffic.
Influencer marketing by the numbers
Influencer marketing is estimated to be worth more than $10 billion in 2021. Some people predicted it will decrease due to the COVID-19 pandemic, but it only grew stronger. This single number means you should at least be aware of the phenomenon if you want to be an up-to-date marketer.
Linqia administered their own survey, and it turns out more than of 70% enterprise marketers wanted to increase their budget in 2021 (compared to the previous year). The same study says Instagram stays as the most popular platform for influencer marketing, followed by TikTok, which is quickly gaining reputation. What's also interesting, is the rising demand for vertical videos, as this format is necessary for successful Instagram Stories campaigns, and is considered more mobile-friendly.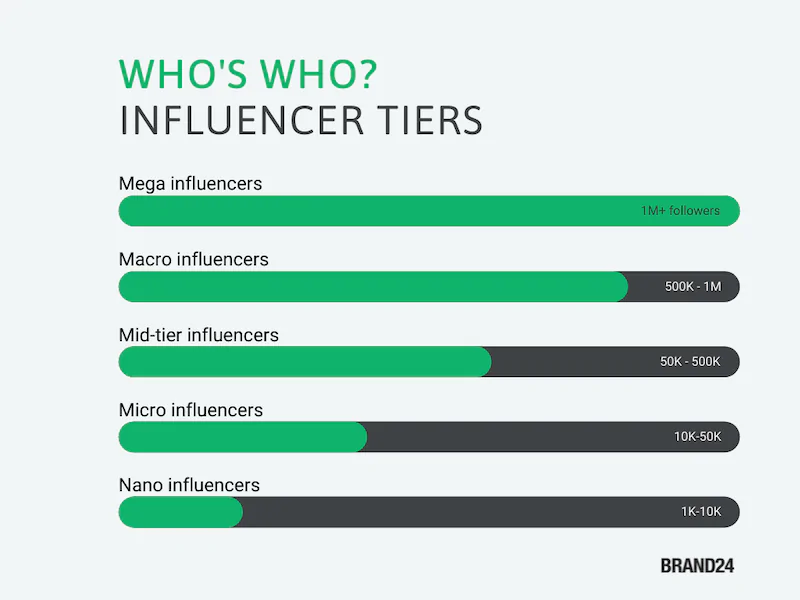 Social media platforms breakdown
We can also categorize influencers by the social media they usually use. While the most popular influencers are probably on all platforms (at least Instagram, Facebook, and Twitter), some people use exclusively YouTube or TikTok.
While working on your influencer marketing strategy you should define which social media platform is the most vital and where you can get the best ROI. Advertising fashion products will most likely work the best on Instagram, but you can get better traffic from YouTube while ordering new technology reviews.
Facebook
Facebook is now one of the oldest social media platforms, slowly abandoned by the younger audience and dominated by sponsored posts. With the number of ads and spammy content, it's much harder to get noticed organically on Facebook.
This channel is not the best platform to start your influencer marketing campaign, but there are certain instances this might work after all. You will probably need a big budget to back the campaign with paid ads, though.
Instagram
Instagram is a great channel for influencers because it's based on good pictures. Of course, it's not easy to make a great photo, but it's definitely easier than coming up with video content for YouTube or working on organic posts for Facebook. A single photo by a social media celebrity can sell a product better than some carefully crafted ads.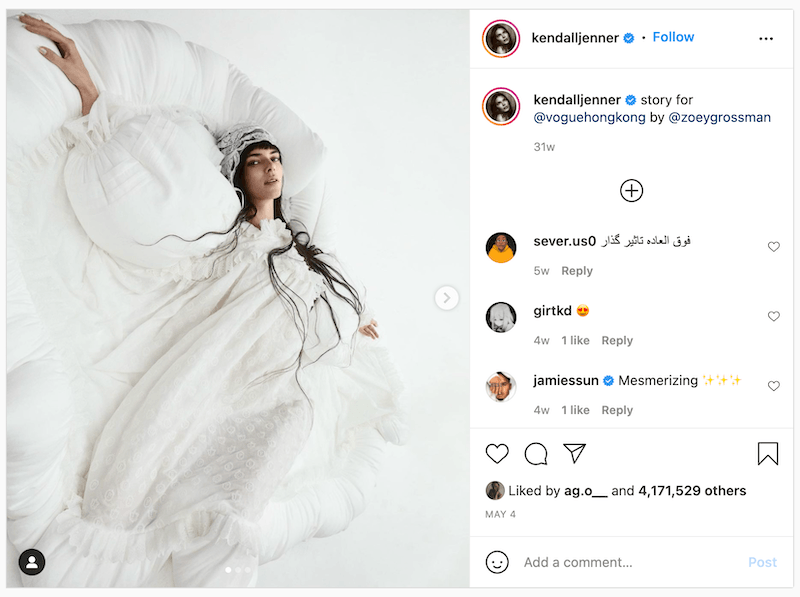 Twitter
Because Twitter is a much smaller medium than Instagram or Facebook, sometimes it's omitted as a place for working with social influencers. Is it right? Not necessarily. Twitter can still be a valid source of traffic and a place to raise brand awareness.
People are used to seeing sponsored content on Instagram or YouTube, and Twitter seems to be more "approachable". Meaning that because it has a much smaller userbase, content creators treat it more as a place to share thoughts, quick status updates, and so on. So if they can slip a word about a new tech they are using, their followers may not treat it as a direct advertisement.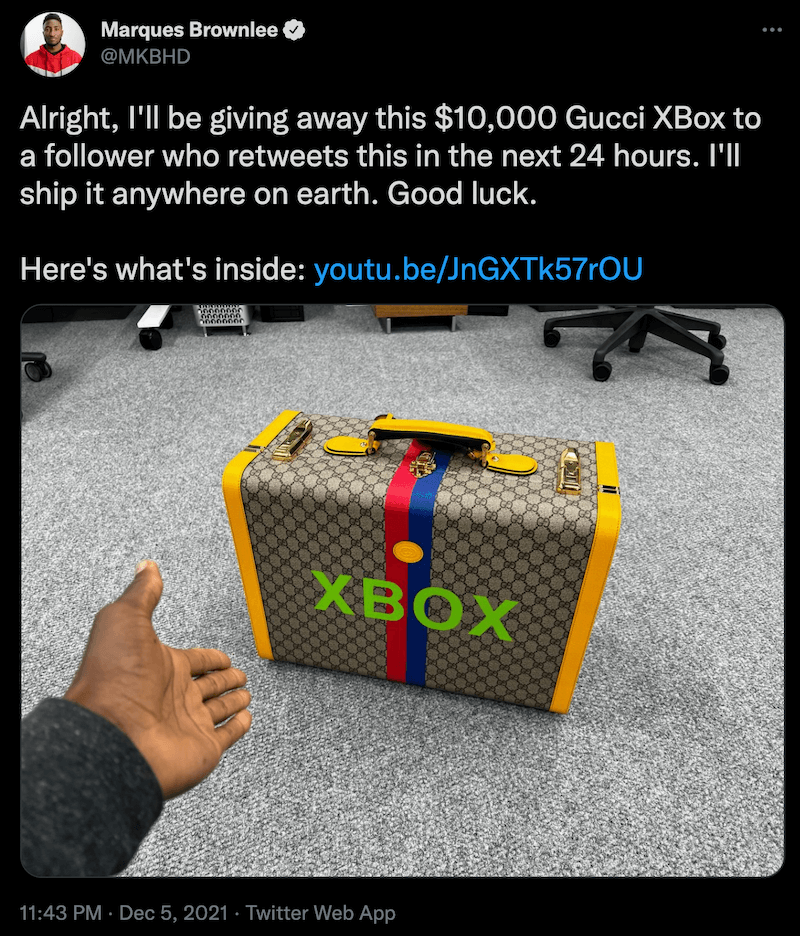 YouTube
YouTube is definitely a king of video platforms. Even with the latest controversy that rose around removing the dislike button, it would take a lot of effort to take YouTube down. Alternatives such as Vimeo or Dailymotion gather only a fraction of YouTube users.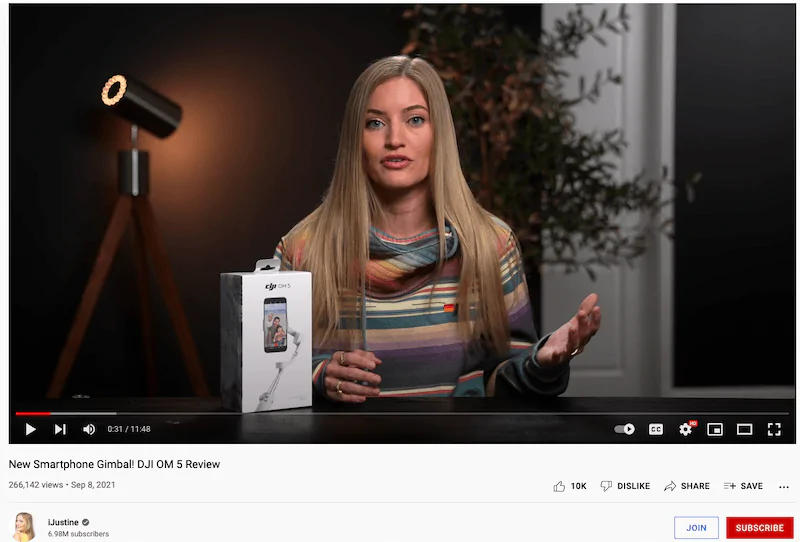 TikTok
Video-based app TikTok gained huge popularity in 2020 and quickly dethroned other social media apps in the number of downloads. It will probably soon have a larger user base than Instagram, and a lot of influencers have now decided to open a TikTok account.
The popularity of TikTok deserves another article, but to quickly sum up the advantages of this social media channel we need to understand how it works. The algorithms of TikTok allow small accounts and unknown people to reach hundreds of thousand views. With good content, you can quickly advance to the top and gain a lot of followers in a relatively short time. Something really hard to do on Instagram, even with the right hashtag strategy.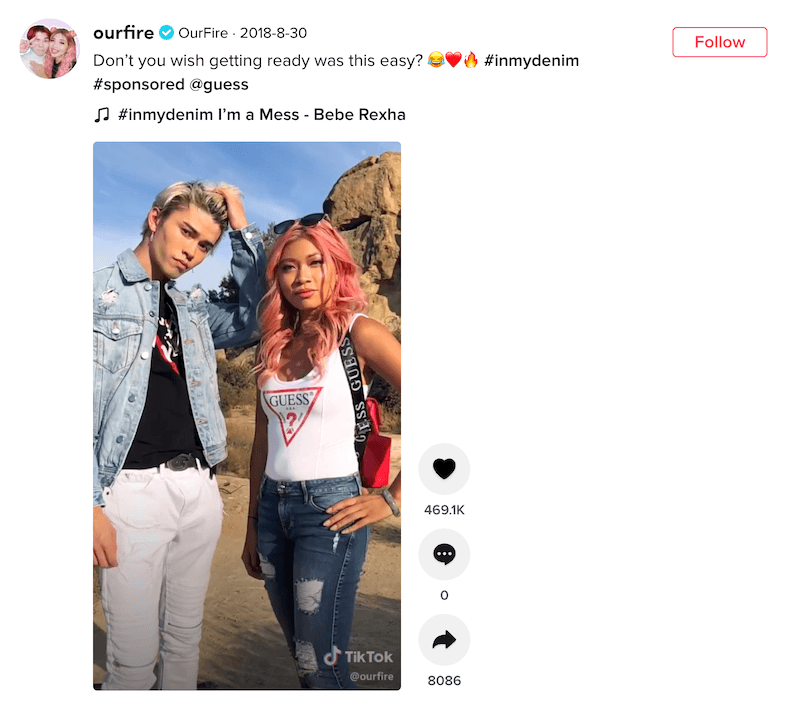 Pinterest
Linkedin
Mind you, people visit Linkedin to consume content related to their work, follow professionals from their line of business, or find a new job. That being said, you can still advertise tools for marketers there, for instance, or your brand as a great workplace.
Social Media Advertising vs. User Experience
Thanks to its worldwide fame, strong tech force, community-building features, and impressive advertising platform, Facebook Ads quickly became a vital tool. It offers a powerful way for brands to find, build, and test new audiences. Consequently, you can expand your business' horizons and get noticed with ease. So, it's no surprise that more than 3 million brands actively advertise on Facebook along with 9 million advertisers.
Over time, brands have come to understand that users don't like their experiences on these platforms to be interrupted. Ensuring your branded content is highly relevant and creative will help you build meaningful relationships with potential customers.
BOTH! Influencer Marketing and Facebook Ads
Don't feel like you need to pick one or the other. With the growing competition for paid social ads and organic reach for brand accounts throttled heavily, more and more brands are taking a hybrid approach to their social media marketing mix.
Merging influencer campaigns with paid Facebook Ads brings an element of trust, making the pair a perfect marriage. It also helps you expand a campaign's reach, which the influencer's audience size would have otherwise capped. You can even combine influencer campaigns with Facebook Ads based on lookalike audiences to skyrocket your qualified leads and sales.
When combined with the right influencers for the project and made to fit a specific customer journey stage, Facebook Ads become conversion-generating machines!
Collaborations with content creators can also help you acquire social proof, a must to gain the attention of skeptical today's consumer market. Blending the two types of marketing will enable you to use Facebook's top-of-the-range targeting capabilities and inspirational and persuasive influencer marketing powers to drive results continually.
Facebook and Influencer Marketing
Facebook is a powerful platform that knows a vast amount of information about you and your social activity- they know which brands and what type of content you engage with, they know what you're in market shopping for, and they know what types of ads you've clicked and converted on in the past. This type of highly engaging environment is conducive for paid ads because you can really tailor the content, targeting, and objective to reach your pinpointed audience, but must assure content and copy feels native and uninterrupted on the platform to truly drive success. Leveraging influencer content for paid ads is a great way to do so, because you can take content that was created with a loyal organic audience in mind and optimize it for paid social, while still holding on to the influencer's likeness and strong brand voice that users can trust. If content does not feel native to the Facebook/Instagram ad platform and isn't optimized for strong paid branding, Facebook will likely de-prioritize your ads in the news feed.
When it comes to features that facilitate influencer marketing, Facebook doesn't disappoint. Let's look at some of Facebook's top features and how you can use them to optimize your Facebook influencer marketing campaigns:
Branded Content Tags
Facebook's Branded Content tools help you join forces with reputable content creators and be transparent with your audience in the process. This feature reduces consumer skepticism by crafting labeled paid partnership campaigns. Influencers with access to Facebook's Branded Content tools have gained a respectable level of credibility, audience size, and content creation skills. Partnering with them will bring enormous benefits to your brand!
Facebook Groups
Facebook Shops
Facebook Shops enables you to set up a store on Facebook's platform that potential and existing customers can use to buy your products without leaving the platform. This setup allows you to offer a top-class shopping experience.
One of the great things about having a Facebook Shop is that you can weave Facebook influencer marketing campaigns into it. For example, you can make popular influencers the 'face' of your store and create unique product photos for your brand that match its style and ethos.
The influencers could also promote your store via their page to increase conversions. You could even use Facebook Shop features like Live Streaming to host real-time tutorials with influencers on how to use and get the most out of your products.
Sources:
https://adespresso.com/blog/influencer-marketing-guidelines/
https://brand24.com/blog/what-is-influencer-marketing/
https://openinfluence.com/facebook-influencer-marketing/